1. THE TWO BECOMINGS OF CHRIST
God became flesh, born as a man called Jesus. Please read the following verse:
"The Word became flesh and tabernacled among us." John 1:14
The Lord became the Spirit called the life-giving Spirit by His resurrection from the dead. Read the following verse:
"The last Adam became a life-giving Spirit." 1 Corinthians 15:45
Since this Spirit is the life-giving Spirit, He dispenses God with His life into His believers.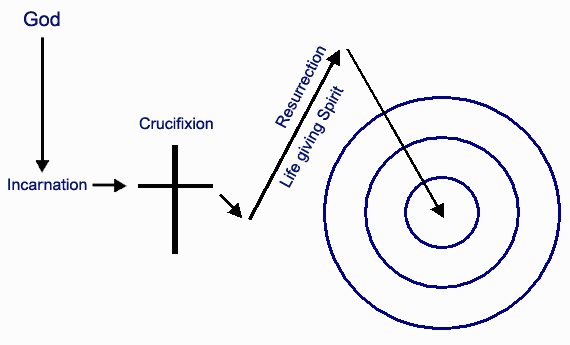 Hence, the Bible says:
"He who has the Son has the life; he who does not have the Son of God does not have the life." 1 John 5:12
2. REGENERATING MAN
In his first birth, man obtains a physical life.
When man receives God's life through Christ, he experiences a second birth, which the Bible calls regeneration.
God...has regenerated us through the resurrection of Jesus Christ from among the dead." 1 Pet. 1:3
Jesus said, "Unless a man is born anew, he cannot see the kingdom of God." John 3:3
A pig cannot participate in the sheep's kingdom and live a sheep's life by education, improvement, or regulation; it must possess the life of a sheep.
Similarly, man cannot participate in God's kingdom and live a divine life by education, improvement, or regulation; he must receive the life of God!

3. THE MEANING OF BEING A CHRISTIAN
A Christian is one who receives God's dispensing. God first dispenses Himself into our spirit and then spreads from our spirit into our soul. Finally, He fills and saturates our spirit, soul, and body with Himself. The Bible calls this final stage glorification.
" And whom He predestinated, these He also called; and whom He called, these He also justified; and whom He justified, these He also glorified."
Through this, we can be conformed to the image of Christ.
"Because whom He foreknew, He also predestinated to be conformed to the image of His Son." Romans 8:29
This is the purpose of human life!
This is the meaning of being a Christian!
WHAT MUST YOU DO NOW?
Now that you have realized God's plan, you should do four things:
1. TURN YOUR HEART TO GOD--REPENT
Repentance is not to be remorseful. Repentance is neither to turn over a new leaf.
Repentance is to have a change in mind. Previously you had your back towards God. Whether you were doing good or evil, you were turned away from God. Your mind was turned away from God. Now listen to what the Lord Jesus said:
"Repent, for the kingdom of the heavens has drawn near." Matt.4:17
2. BELIEVE--RECEIVE
To believe is not to nod your head, nor to agree, nor merely to be appreciative.
If someone gives you a watch, it is not enough for you just to nod your head in agreement and admire the watch. You need to receive it. Believing is just receiving. Read the following verse:
"But as many as received Him, to them He gave authority to become children of God, to those who believe in His name." John 1:12
3. CONFESS--CALL
Being a Christian is an open matter. God requires that your heart believe and that your mouth confess.
If your heart does not believe, you cannot be saved.
"...if you confess with your mouth, Lord Jesus, and believe in your heart that God has raised Him from among the dead, you shall be saved." Romans 10:9
4. BE BAPTIZED--TESTIFY
Baptism is a testimony before men. All believers should be baptized in order to be saved not only before God, but also before men.
The Lord Jesus said:
"He who believes and is baptized shall be saved, but he who does not believe shall be condemned." Mark 16:16
Through baptism, God transfers us from the kingdom of Satan into the kingdom of God. For this reason, the Lord Jesus said:
"Truly, truly, I say to you, unless a man is born of water and the Spirit, he cannot enter into the kingdom of God." John 3:5